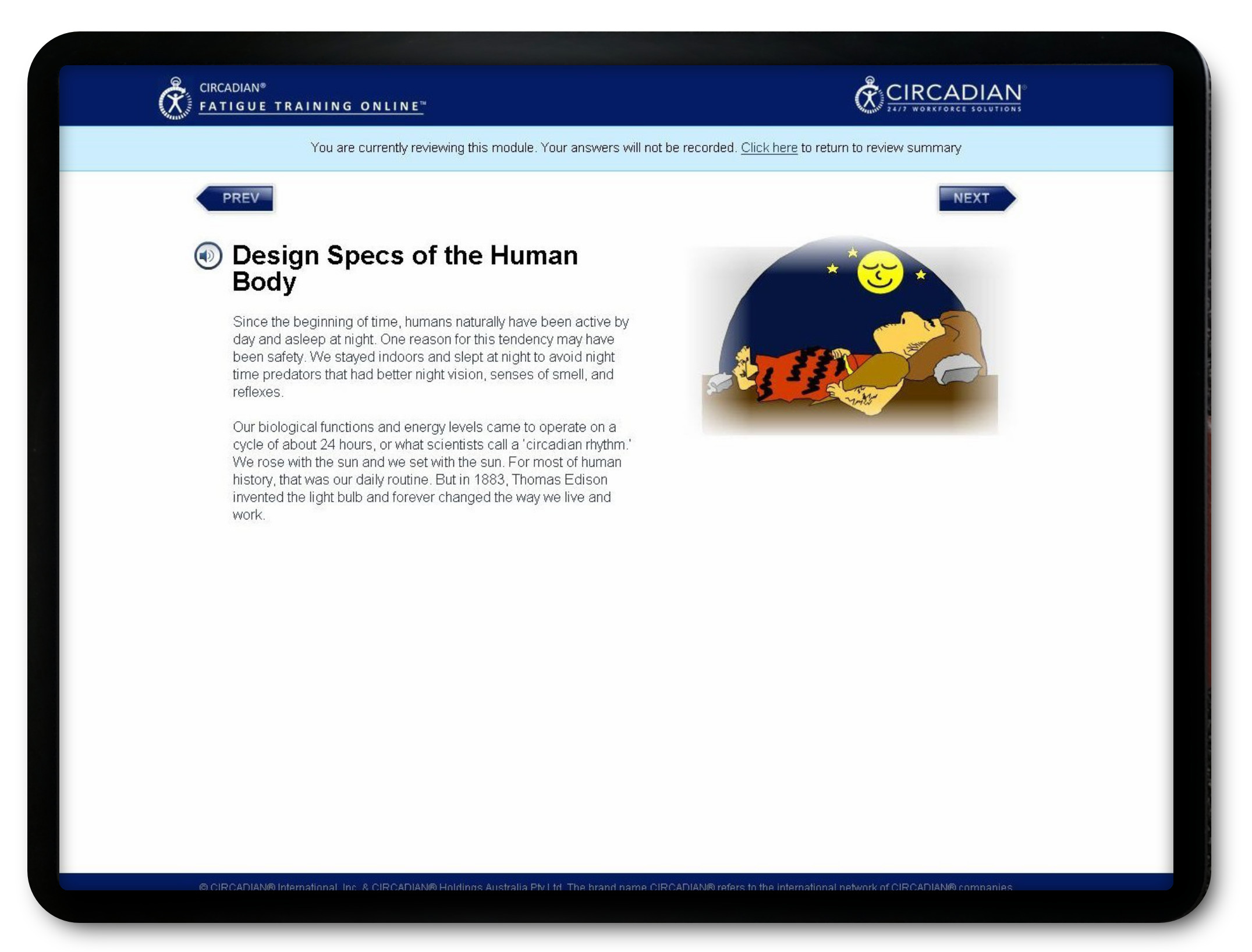 A web-based program that is the most convenient way to learn about managing fatigue!
Fatigue Training Online is the premier online fatigue management training program. The program is specifically designed to educate users on the risks of fatigue and to provide them with practical tips for managing fatigue, sleep and alertness at home and on the job.
Fatigue Training Online includes:
Two fully-narrated 45-minute courses
Incorporates video and interactive comprehension tests
1-year license – Users can access and review the courses as many times as they want
Guaranteed compliance – Designed so you can't fast forward through training
Flexible online training – Accessible anywhere, anytime
Certificate of completion – HR departments can track who has completed training and when
Authoritative information from CIRCADIAN, the leading experts in fatigue, alertness and health & safety for 24- hour operations
What material does the training cover?
The causes, signs and risks of fatigue
Sleep management tips
Challenges of working at different times of day and how to meet them (i.e., shift work)
Health & nutrition
Family & social life issues for those who work shiftwork and non-traditional hours
Alertness tips, including managing coping substances (such as caffeine)
SHIPPING & DELIVERY NOTE: This is a digital product. After purchasing Fatigue Training Online you will be emailed in 1-2 business days with your account log-in information.
Buy 50 for $95.00 each and save 4%
Buy 100 for $92.00 each and save 7%
Buy 200 for $89.00 each and save 10%
Buy 300 for $86.00 each and save 13%
Buy 400 for $83.00 each and save 16%
Buy 500 for $80.00 each and save 19%
Buy 750 for $75.00 each and save 24%