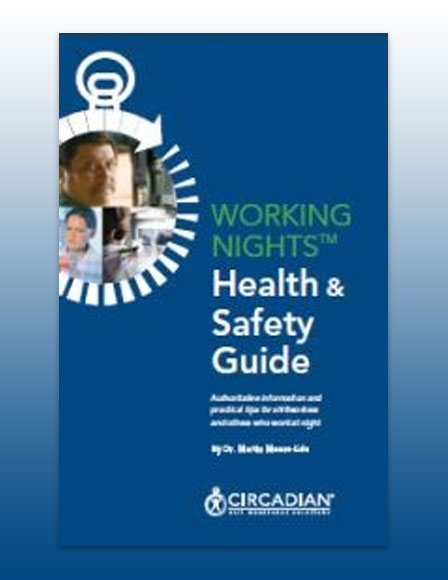 The Working Nights Health and Safety Guide
Years of shiftwork wisdom captured in one booklet to help shiftworkers adapt to the demands of the shiftwork lifestyle. New and Improved! Featuring updated information, quizzes and more!
The Working Nights Health & Safety Guide helps people who work at night better adapt to the demands of a shiftwork lifestyle.
Years of shiftwork wisdom are captured in a concise, non-technical guide. It covers all the most critical areas:
Understanding Your Circadian Rhythms
Work Performance and Job Safety
Sleep
Health Problems and Solutions
Nutrition
Family and Social Life
The new 40-page guide includes interactive quizzes to help shiftworkers evaluate their fatigue level and help them improve their alertness at work and sleep at home. It's an invaluable lifestyle/health & safety training resource.
Perfect to handout to new hires, family members of shiftworkers, or to give to experienced workers as a refresher.
Quantity Discounts Available. Pricing starts at $7.00 per a guide. See the Bulk Pricing tab for complete price breakdown.
Also available in French: Guide santé et sécurité pour le travail de nuit
Quantity discounts:

Buy 50 for $6 each
Buy 101 for $5 each
Buy 501 for $4 each

Discount will be applied at checkout